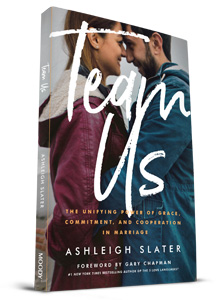 What Most Marriages Are Missing
The best marriages have a teamwork mentality. Spouses serve each other, support each other, and celebrate each other. They tackle life as a unit, and when one slips, the other gives grace. They can be vulnerable together because they know they rise and fall as one.
Do you want a marriage like this? Team Us will help you and your spouse cultivate a teamwork mentality. I share observations from my marriage while offering practical, realistic ideas for unifying yours.
Even if just one of you reads, your marriage can grow in intimacy and joy, providing momentum for the changes you long to see.
Team Us: The Unifying Power of Grace, Commitment, and Cooperation in Marriage is available for order at Amazon, Barnes & Noble, and ChristianBook.com.
Read an excerpt here. Learn how to get the free study guide here. Watch, listen to, and read interviews on the book here.
Kind Words for Team Us
"Real life is not always pleasant. Every marriage experiences disappointments, misunderstandings, sickness and financial crisis. Ashleigh doesn't camouflage the pain in her own marriage, and offers practical ideas on how to walk through the difficulties and find intimacy on the journey. If you are anything like me, I predict that as you read, you too will find yourself laughing, wiping tears, and saying 'Oh, yes.'" – Gary Chapman, #1 New York Times bestselling author of The 5 Love Languages
"Is your marriage a team effort? Are you and your main squeeze producing the sweet fruit of joyful togetherness and intimacy? Or are you beginning to resemble a pair of old lemons, estranged and sour, waiting to be picked off by the enemy and added to the heap of failed relationships? If you've lost some of the 'us-ness' you had when you first got married, Team Us: Marriage Together is a book you need to read. If you want to fire up the togetherness in your relationship, build oneness, and live with a 'Team Us' spirit, read Ashleigh's book today! Her writing is transparent, engaging, funny, and helpful. This book will fill you with the practical perspective you need to win in marriage." – Kirk Cameron, actor/film producer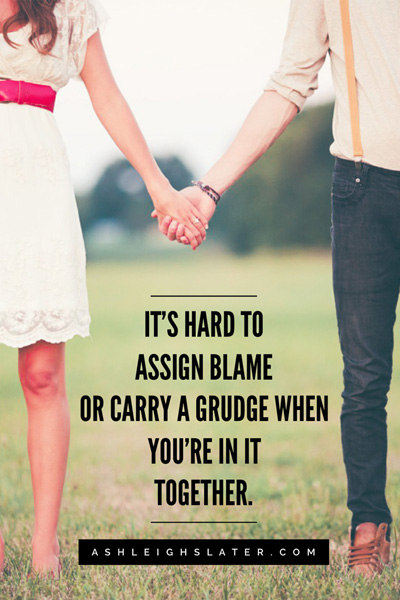 "Team Us addresses one of the most important aspects of an intimate marriage — becoming one. A wedding, after all, is simply a promise, but a marriage is a daily pursuit. With a whimsical and engaging style, Ashleigh Slater challenges us to build our 'team' with careful thought, perseverance and commitment." – Gary Thomas, author of Sacred Marriage and A Lifelong Love.
"Part Princess Bride and part Remember the Titans, you'll be cheering for Team Us from page one! Ashleigh does a masterful job of weaving in her own story with yours. You'll learn what it takes to triumph in marriage as a team, even when the odds are stacked up against you." – Arlene Pellicane, author of 31 Days to Becoming a Happy Wife
"Marriage is the adventure of a lifetime — a sacred and lifelong commitment played out in the triumphs and tragedies of the day-to-day. In Team Us, Ashleigh (and Ted) bring you along on their adventure, sharing the simple but foundational lessons they've learned along the way. The result is a fun, honest, and convicting read that made me eager to apply the 'team' concept to my own marriage, and more excited than ever for the years ahead." – Alex Harris, co-author of Do Hard Things and Start Here
"Team Us is a 'must-have' book for every couple. Ashleigh's writing style drew me in and kept me captivated throughout. The relationship between Ashleigh and her husband Ted is my favorite aspect of the book, and I love the fact that his voice was present throughout. Absolutely beautiful and inspiring!" – Darlene Schacht, The Time-Warp Wife
"Like a conversation with a true friend, this book is open, real, and honest. Ashleigh invites you inside her heart and home to humbly share wisdom gained from experiences she and her husband have walked through. Here you'll find solid teaching that is gentle, yet poignant, with a touch of humor, showing how to trust, to love freely, to keep no record of wrongs, and the many other ways of living that make for a rich, fulfilling marriage. We highly recommend this book for couples of any age." – Matthew and Lisa Jacobson, authors of 100 Ways to Love Your Husband and 100 Ways to Love Your Wife
"When it comes to the ups and downs of daily life, are you and your spouse on the same team? If you struggle with unity in your relationship, Team Us is a great read. It offers practical and encouraging thoughts on how you can better live out marriage together!" – Mitch Temple, LMFT, Exec. Director, Marriage Author/Speaker, Faith & Family Movie Consultant (Fireproof, Moms Night Out)
"Team Us: Marriage Together is a resource that I believe will help husbands and wives put their relationship into the right perspective and give them hope and motivation to aim for teamwork!"
– Jennifer Smith, author of The Unveiled Wife and Wife After God
"Team Us is a wonderful read for married couples who are looking to get on the same page. Encouraging, inspirational, and very easy to pass between spouses for sparking conversation." – Renee Fisher, author of four books including Forgiving Others, Forgiving Me
"Team Us is a transparent look into marriage through the life of Ashleigh and Ted Slater. It is their real life ups and downs through which Ashleigh has brilliantly unearthed relevant principles that will add value to any marriage. Ashleigh's humor and vulnerability will keep you turning pages. If you are married or believe marriage is in your future, then Team Us is waiting for its place on your nightstand." – Rob McDowell, Lead Pastor, North Metro Church, Marietta, Georgia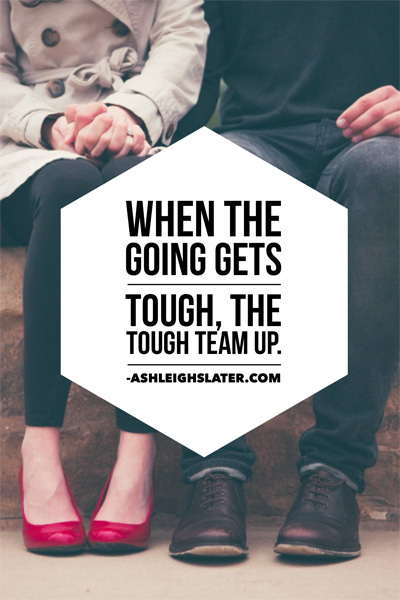 "Packed full of challenging and uplifting marriage advice, Team Us will draw readers in and set them up for a successful, fun and godly marriage. Ashleigh Slater has a way with words where we see our own strengths and weaknesses within her story. Coupled with candid personal stories, humorous life happenings and biblical truth, both men and women will relate and jump in to make their marriages even better. Team Us will be close at hand to share with those I mentor." – Sarah Francis Martin, author of Just RISE UP!: A Call To Make Jesus Famous
"Ashleigh's warm, humorous, and unflinchingly honest revelations and insights convicted, inspired and motivated me. Even after 23 years of marriage, God used Team Us to give me a clearer, deeper picture of exactly what He has in mind when He created marriage. It gave me new tools to tackle old problems with hope and a plan. Team Us is a wonderful resource for couples that can transform their mentality about marriage and help them pursue the relationship in the way God intended!" — Melinda Means, blogger, speaker and co-author of Mothering From Scratch: Finding the Best Parenting Style for You and Your Family