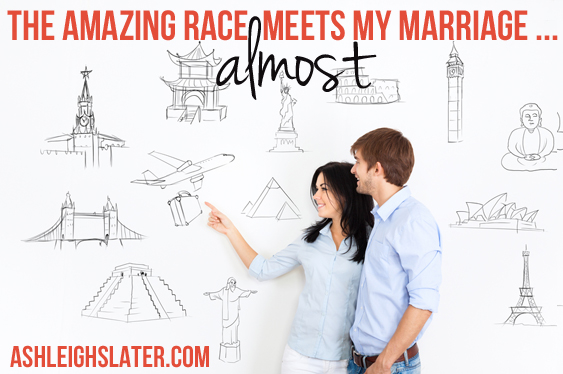 Have you ever thought about applying for a reality television show? I mean, seriously considered it?
I have. The Amazing Race to be exact. In fact, I even tried to convince Ted we should apply together. I figured if we were going to fit world travel into our schedule, let alone, budget, this show was the way to go.
Ted didn't go for it.
While he and I may never be teammates on the show, I love what The Amazing Race reminds me of when it comes to my marriage. Today I'm over at Unveiled Wife sharing my thoughts on this, as well as some winning team strategies Ted and I have found helpful in our marriage. I write:
While Ted and I may never be teammates on the show, I love what "The Amazing Race" reminds me of when it comes to our marriage. I find that most of the couples who win – whether husband and wife, father and son, or best friends – are for each other. They work together in order to succeed. And I believe that's vital to my marriage and to yours.
You can read my guest post "5 Winning Team Us Strategies for Your Marriage" here. After you do, I'd love to have you leave me a comment. Let me know what winning strategies you'd add to the list.
Also, while you're at Unveiled Wife's website, don't miss her recent review of Team Us. It's thoughtfully written and I love how she sums up the book by saying:
"Team Us – Marriage Together" by Ashleigh Slater is a great resource to address why being a team in marriage is important, how a husband and wife can practically live as a team, and it gives the hope of having a great marriage because of the positive affects of being a team together.
So make yourself a cup of your favorite warm drink and spend some time over at Unveiled Wife today. In addition to the review and guest post, she offers lots of encouragement and practical wisdom for your marriage.