BRAVING SORROW TOGETHER
Suffering is a season. Hope is eternal.
How do you cope when life is hard? Is there a way to grieve so that seasons of loss become seasons of growth?
Braving Sorrow Together: The Transformative Power of Faith and Community When Life is Hard is about where to turn when life is hard. Ashleigh Slater weaves together Scripture, personal stories, and guest entries to comfort the suffering and encourage hopeful grieving. Whether your trials concern health, employment, relationships, or even death, grief can turn into growth when we lean on Christ and others. Braving Sorrow Together provides solace for hard times and advice for getting through them with grit and grace.
Braving Sorrow Together is available at Amazon, Barnes & Noble, and ChristianBook.com.
Kind Words for Braving Sorrow Together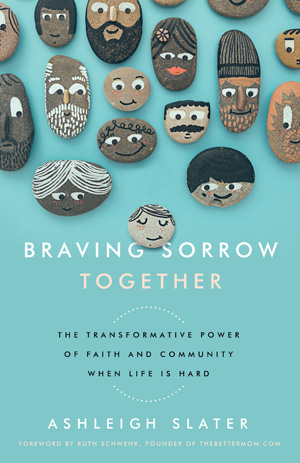 "Reading Braving Sorrow Together is like sitting across from the best kind of friend – a friend who has been down the well-worn path of suffering and can listen, empathize and offer gentle guidance for the journey ahead. If you are walking through your own 'weeping years,' Ashleigh's book will free you to grieve your loss while clinging to the hope that you are never alone in your grief." – Kelly Givens, editor of iBelieve.com
"If you are struggling with grief or anxiety, you are not alone. In this book, you will find a kind and honest travel companion in Ashleigh Slater." — Arlene Pellicane, speaker and author of Calm, Cool, and Connected: 5 Digital Habits for a More Balanced Life
"Ashleigh hasn't given us a textbook or psychological treatise on grief — she's given us an armchair, a tissue and a listening ear. With each story of loss, she turns us back to the grace of the gospel. Watching her grapple with her own sorrows gives me the courage to explore my own." — Lisa Anderson, director of Boundless.org and author of The Dating Manifesto
"Braving Sorrow Together, is a powerful and practical ministry tool for the community of Christ, especially when its members need comfort and care. This book not only shows us what to do when we don't know what to say, it encourages us to fight the urge to run from the pain and suffering of others. Instead, we are empowered to forge strong relationships during the not-so-nice times of life, reflecting the gospel as we do. Highly recommended!" — Karen Ehman, Proverbs 31 Ministries speaker and New York Times Best-selling author of Keep It Shut: What to Say, How to Say It and When to Say Nothing at All and Listen, Love, Repeat: Other-Centered Living in a Self-Centered World, Wife and Mother of three
"Braving Sorrow Together is a healing salve for the hurting heart. Ashleigh's words offer comfort and hope as they lead you to both trust in and to lean on the Lord for His strength." — Darlene Schacht, Time-Warp Wife Ministries
"Braving Sorrow Together is an incredibly helpful and compassionate book for anyone who is hurting or suffered loss. And isn't that the case for most all of us? So many people go through life experiencing grief, disappointment, and heartache. Yet in spite of this camaraderie of sadness, we feel more alone than ever. Ashleigh Slater brings both hope and practical help to a topic that so many of us feel, but hardly know where to turn. Her book is one that you'll want to read for yourself, as well as give to a hurting friend. — Lisa Jacobson, Club31Women.com
"Ashleigh's ability to communicate the importance of braving sorrow while reminding us of God's love is a breath of fresh air. I have no doubt the words on these pages will encourage many who feel alone in their grief." — Carlie Kercheval, co-founder of Learning to Speak Life Books™
"Grief and loss are real. They're hard and even harder to talk about. But in her beautiful, honest new book Braving Sorrow Together: The Transformative Power of Faith and Community When Life is Hard, Ashleigh Slater fearlessly wrestles with the hard questions, the nitty-gritty issues of grief, loss, and mourning. Filled with real-life stories, practical actions and sound advice, anyone mired in the trenches of loss will find Godly direction and wise counsel as they read this book. Ashleigh has walked the path and knows it well. Let her experience guide you and give you hope." — Kate Battistelli is the author of Growing Great Kids-Partner with God to Cultivate His Purpose in Your Child's Life, and the mother of GRAMMY award winning artist Francesca Battistelli.
"As I read Braving Sorrow Together, it truly felt like I was sitting across from Ashleigh sharing moments of togetherness in a conversational way. In a culture where slowing down and acknowledging grief is nearly unacceptable, Ashleigh pulls back the curtain allowing us to be vulnerable enough to acknowledge the pain of loss. She writes not as a spectator of loss but as a participant. Sharing the truth that helped her and practical ways that the reader can come alongside someone who has suffered loss of any kind." — Sarah Bragg, host of the Surviving Sarah podcast
"Loss is a dark and painful reality of life in a fallen world. Ashleigh reminds us in Braving Sorrow Together that we don't grieve our losses alone. We need to brave our sorrows together with our church community, reminding each other that "Loss is not a forever part of your story." — Christina Fox, author of A Heart Set Free and Closer Than a Sister
"Ashleigh Slater provides personally vulnerable insights in addressing an important heart-felt need—the issue of suffering. She examines a wide range of difficult life situations, including relationships, health, work, etc. and shows how faith and community are keys to navigating this season. Braving Sorrow Together provides biblical wisdom, practical application, and true stories that will help you grow through pain and sorrow and embrace God's best for your life." — Susan G. Mathis, author of Countdown for Couples and The ReMarriage Adventure